I know I have a fair amount of Harry Styles content on this blog so I just want to give a small update on my life.
I SAW HARRY STYLES AT RADIO CITY MUSIC HALL IN NEW YORK CITY.
It was amazing! One of the best concerts I have been to in a while. Harry is such a good performer. He performed Kiwi 3 times. THREE TIMES. And it was amazing every time. Such a bop. Like so high energy, such fun lyrics. He did it to convince the record label people to make it the next single. I really hoped it worked as Kiwi is AWESOME!!!. It was a pretty cheeky move on my boy Harry's part.
I sat in row D of the 1st mezzanine at Radio City Music Hall. At first, I thought they were good seats and yeah, I could see Harry well enough but I wish they were better. Usually, mezzanine seats are better at other theaters.
Harry's suit was on point as always. I found a picture on Google to show you guys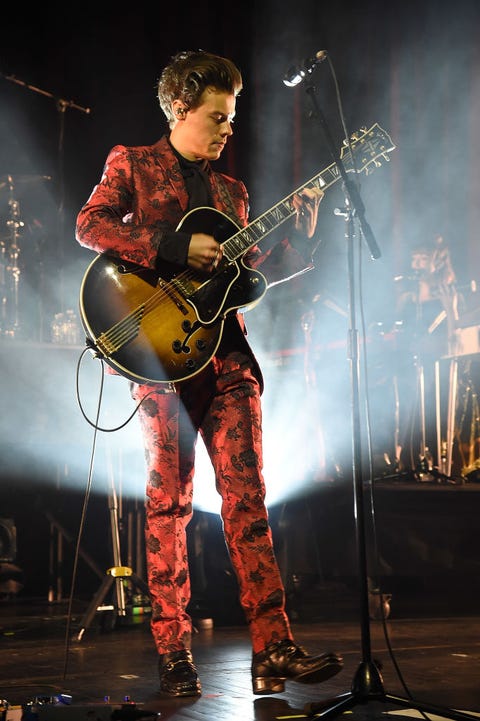 I love the red and black combination. It really matched with curtains at Radio City.
Another highlight of the show was when he was asking people where they were from. He was like "who is here from New York?." Many people screamed as expected. And then he asked, "who is here from out of town?" I screamed as technically I was...though only a few miles out of town. Then he asked the audience where out of town. And a girl said, "New Jersey." I WAS LIKE YEAH WHOO. And then Harry was like "New Jersey?" a little sardonically. But he followed it up with, "Not that there is anything wrong with New Jersey. I was just hoping for someone a little bit more out of town. So who here is from some where else than New York, New Jersey, Brooklyn?," I was just like "??????" NEW JERSEY IS NO WHERE NEAR BROOKLYN IN TERMS OF OUT OF TOWNNESS. DOES HE KNOW NJ IS A COMPLETELY DIFFERENT STATE WE ARE NOT GOING TO BE LUMPED WITH NEW YORKERS. WE ARE NEW JERSEY PEOPLE SOME OF US ARE FROM SUPER OUT OF TOWN LIKE SOUTH JERSEY (not me obviously lol)
Obviously, I am just happy he was talking about New Jersey on stage.
Anyway, great experience. MUNA was pretty good too.
Suggested Blog Posts
Every Song Off Harry Styles, the album RANKED
My Reactions to Harry Styles' Most Risque Lyrics On His New Album
Harry Styles Lyrical Analysis Masterpost